Acorn Education Trust becomes Teaching School Hub Delivery Partner
Back

June 30th 2021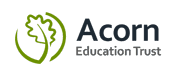 Acorn Education Trust is delighted to be a Lead Delivery Partner for the Swindon & Wiltshire Teaching School Hub.
Earlier this year, the Department of Education (DfE) announced 87 new teaching School Hubs across the country, with the goal of providing every school in England with access to a local centre of excellence for training. Swindon & Wiltshire Teaching School Hub is committed to providing high quality training and development to all teachers and leaders at any stage of their career and has built a network of partners to deliver training and support across the region.
Acorn Education Trust will be delivering the Early Career Framework (ECF) training to West Wiltshire secondary schools, and additionally will be involved with the delivery of National Professional Qualifications (NPQs) and other Continuing Professional Development (CPD) programmes.
We look forward to working collaboratively with Swindon & Wiltshire Teaching School Hub and the other hub partners to help ensure that the best training and development opportunities are available to teachers and leaders.
Click here to visit the Swindon and Wiltshire Teaching School Hub Website