Clarendon Academy Receives Dyslexia Friendly Quality Mark
Back

November 23rd 2022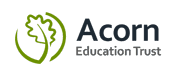 Clarendon Academy have been awarded the Dyslexia Friendly Quality Mark by the British Dyslexia Association (BDA).
The Quality Mark is only issued to schools or organisations that can demonstrate that they provide high quality education for dyslexic individuals. Clarendon Academy, an Acorn Education Trust school, demonstrated that they understand the needs of, provide appropriate resources for and have support strategies in place for dyslexic individuals within the school community.
In the Verification Report, that confirmed Clarendon Academy's achievement of the Quality Mark, the school was praised for their caring and sensitive ethos and prioritisation of SEND provision. The staff were highlighted as being the driving force behind the safe learning environment at Clarendon Academy; staff at the school with dyslexia, or dyslexia type difficulties, felt supported by the senior leadership team and were comfortable sharing their own experiences with pupils as a way of inspiring them to achieve.
The report went onto commend the school for their commitment to supporting dyslexic pupils during the transition from primary to secondary phase. Staff were found to have high expectations for all pupils and have adopted inclusive practices to ensure all pupils can access the curriculum at a pace which matches their learning needs.
Craig Turze, Head of School at The Clarendon Academy, commented: "Supporting all students, whatever their needs, to achieve the very best they can is the aim of all staff at Clarendon. We're delighted that this has been recognised in the awarding of the BDA Quality Mark."
The school will now be added to the register of Maintained Sector schools at CReSTeD (Council for the Registration of Schools Teaching Dyslexic Pupils).
Acorn Education Trust was also praised within the report for creating a data-led, collaborative SEND provision across the Trust. This has ensured consistency across all Trust settings while also assisting in evolving school SEND provision in line with best practice.
Sue Fulbrook, Head of SEND for Acorn Education Trust, added: "Congratulations to all the team at Clarendon Academy on the recognition of their inclusive culture and practice for students with dyslexia. It is fantastic to have this verified by the BDA. Acorn Education Trust is committed to provision for SEND which is "built-in, not bolt-on" and this report reflects the involvement of all staff at Clarendon in embracing this approach."