Acorn schools and nurseries closure – Friday 18th February 2022
Back

February 17th 2022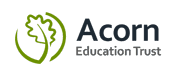 As you know our priority in decision making is always the safety of our community. Therefore, in conjunction with Heads of Schools and following the Met Office weather forecast and local advice, we have made the decision to close all Acorn schools and nurseries tomorrow (Friday, 18th February). If we were to open tomorrow, we could not guarantee the safety of any child as the forecast is for high winds to increase throughout the school day.
We therefore feel it is best for children to learn in their own homes for the day and we will be providing more information to you regarding the provision of remote learning. However, should the storm affect your ability to access the online learning, please do not worry.
For any child in receipt of free school meals, we hope the £15 voucher you will be receiving will also cover tomorrow. We appreciate how difficult things are at the moment for everyone and if you need further support please contact: Mr James Evans, Acorn Education Trust Head of Estates at ev@acorneducationtrust.com.
Please stay safe tomorrow and we wish you a restful and peaceful half term holiday.
Sara Edwards
CEO Acorn Education Trust