June 24th 2020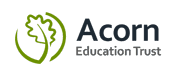 Acorn Education Trust is committed to the wellbeing and support of all of our pupils and their families. The changes brought about by COVID-19, have had a huge impact on our local communities, who are now facing unprecedented challenges in their day to day lives.
As a Trust, we know our families very well and we would like to support those who are in need of help, in the days and weeks ahead. Our intention is to provide support in purchasing school uniforms and supplies to pupils returning to school in Autumn (pending Government guidance), whose circumstances have changed dramatically, due to COVID-19.
The Acorn Appeal
We are asking you to help us on a local level - during this time of national uncertainty - to raise money to support these families, through donations and/or by fundraising. Your fundraising can take any shape or form – eg: you could do a sponsored run or give up chocolate for a week – but no matter what you do, you will be making a huge difference to a young person in your community:
£3 could buy a fully stocked pencil case
£11 could buy a primary sweat shirt
£35 could buy a school blazer
You can donate directly via our Just Giving Page.
As a Trust, we pride ourselves on our inclusivity and dedication to support our varied communities. At the moment, we don't know exactly what the new 'normal' will be for our schools, in coming months. What we do know, is that right now, we have an opportunity to support those who are in need of help, by helping provide school uniforms and supplies to those most in need. It's these little things that we know will ensure that all of our pupils return to school, feeling valued, cared for and that they belong.
In a world where so much is changing, we will continue to assist our local communities, and prepare our students for whatever tomorrow holds. We thank you for your support.